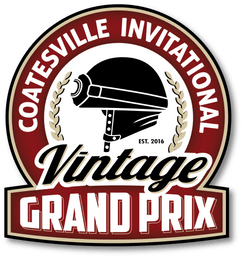 Location
3rd Avenue and Lincoln Highway, Coatesville, PA, USA
Date
September 21, 2019
2019 Coatesville Invitational Vintage Grand Prix.

Free Admission for spectators!

Join us for the fourth running of this epic event!
This invitational event, hosted by the city of Coatesville,
will feature vintage race cars and motorcycles
driving on a challenging 2.2-mile road course through
the streets and neighborhoods of our historic city
along America's First Historic Super Highway!

Activities start at 8:30 AM. Cars and motorcycles get the green flag at 9 AM. The Start/Finish Line is at 3rd Ave. and Lincoln Highway.

A truly exciting day for the whole family!
Enjoy music, great food, vendors, and entertainment!

Want to join in the fun and drive in the Grand Prix?
Registration is open to vintage race cars
and motorcycles from 1900 to 1970.

Don't have a race car, but want to join the fun?
Sign up for "Lunchtime Touring!"
Open to all vintage road cars from 1900 to 1970.

Visit website above for all of the details.
0 Members Attending this event ↵
No members have indicated they are attending yet...
Want to add yourself to the list of attendees?
Please Sign In — or Register a new account (it's free!)
event/2111