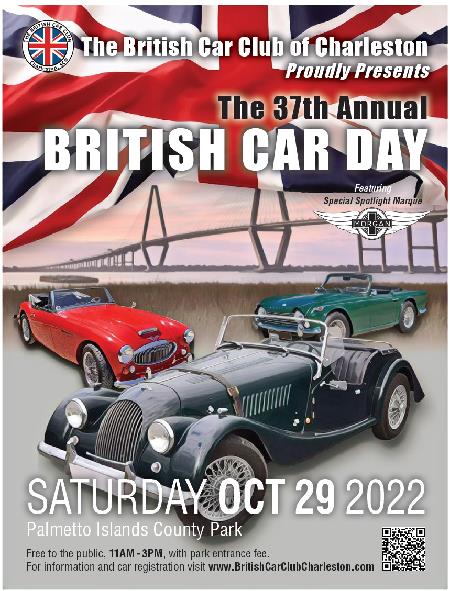 Location
Palmetto Islands County Park, Needlerush Parkway, Mt Pleasant, SC, USA
Date
October 29, 2022
37th annual British Car Club of Charleston's British Car Day event will be held at Palmetto Islands County Park located in Mt. Pleasant, SC. The Saturday show fields 150 plus examples of British car history with some exceptional examples of rare and unusual cars. The spotlight group for this year is the beloved Morgan.
Friday before the show there is a drive through the Lowcountry islands to the only tea farm in the US. Also offered on Friday is a Traditional English Tea and tours of historic McLeod Plantation house. The welcome reception ends the day. This show draws folks from around
the southeast. Check website above for more information a great fall event in the Charleston, SC Lowcountry.
4 Members Attending this event ↵
Want to add yourself to the list of attendees?
Please Sign In — or Register a new account (it's free!)
event/2584