Cheers,
So the reason I now have my MG, is because my Subaru's head gasket went. Since I was planning on rebuilding the car at somepoint, I figured I might as well get another car instead and have the Legacy to tinker with instead of rush it to get it back on the road. So I picked up a Volvo, and it didnt really click with me. So I put it up for sale. And ended up trading for the MG in the end. This Subaru has been the love of my life, and means the world to me. Here's a little info on it...
The day I got the Outback
Engine-
Ej25
Mods-
Borla Replica UEL Headers
2.5" Custom fit midpipe
Fart Cannon
Custom Intake
Wheels-
O.Z Prodrive P1 17'' 5x100
225-45-17 Tyres- Hankook Ventus V12
Suspension-
H&R 1.5'' Lowering Springs
KYB Gr2 Legacy GT Struts
STI/WRX Front strut Brace
Interior
SuperBright LED's Gauge Bulbs
Momo Wrx Steering wheel
Wood Grain
3 JL Audio Subs
Exterior:
Legacy "L7" Grill
JDM Legacy tail lights
JDM Center Garnish
DIY Cleared head lamps
Yakima Bike Rack
STI Limited V Lip
Center Roof Rail delete
JDM Lancaster, subaru & VDC emblems
BE/BH Crystal Fender Turn signals. (not installed)
JDM GT Legacy wing
-------------------------------------------------------------------------------------------------
Future Mods-
Exterior-
B4 RSK Front End swap-
Fenders
Bumper
Hood
Revision D Lights
Front Lip
Legacy Doors (No more Outback Door Flares)
Front and Rear Spats
Either keeping Legacy GT Spoiler or getting VOLTEX 3D Carbon GT Wing
Different Rims (Havent decided on what kind yet)
Engine-
2.0 or 2.5 WRX motor
STi Manifold
UEL headers
Brakes-
Brembo or Willwood fronts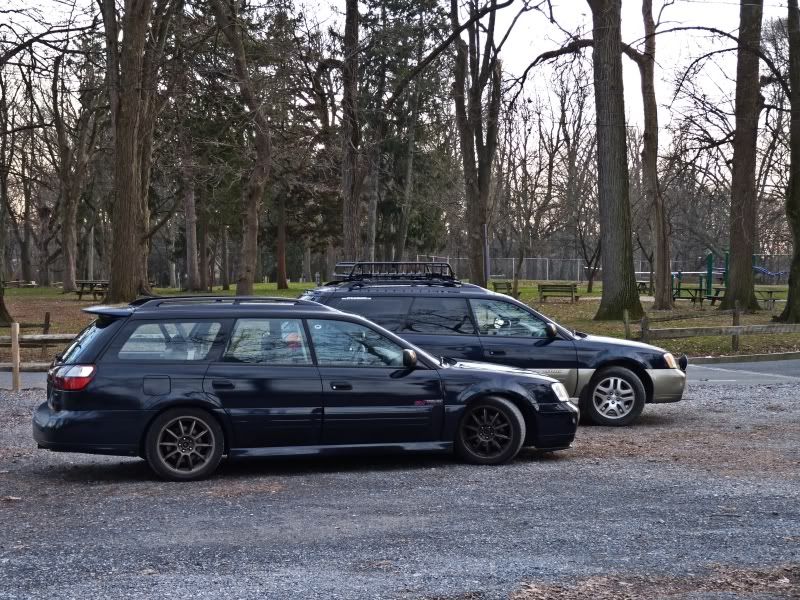 Just a little lower than how it was originally
And let the work begin!
Edited 5 time(s). Last edit at 2012-05-20 02:20 PM by MRLancaster.