In reply to # 3736917 by stiffarm67 Assuming that there is equal value in your estimation, the Austin will subtract 20 years of cool from you. You'd go from sporting gent to old duffer in a hurry.
Joe, You couldn't be more wrong!
Your cool value will do nothing by rise.
Although not an Austin Princess, I do own an Austin London Taxi Cab circa 1967 for the last 21 years.
It is a hit at all sorts of gatherings and a lot of people think you own a "cool car, especially with the steering wheel on the wrong side.
-bcw
---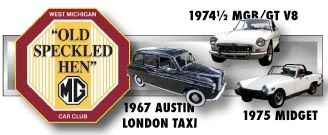 Everyone likes flattery; and when you come to Royalty you should lay it on with a trowel. - Benjamin Disraeli