Chris Williams' Journal
Home Page:
Chris W
Gosford, NSW, Australia
Total Posts: 219
–
Latest Post: 2018-01-23
Table of Contents
Chris W
— Posted on
The MG Experience
Monday January 22, 2018 2:55 AM
I've copped a bit of stick from some members on the value of doing what I've done. Most have been supportive and helpful but there also has been a few nay-sayers.
I'd like to reiterate the reasons for my decision to go down this path.

I established right from the start improvement of braking was not my primary goal. I was disappointed with the deterioration of the drum brake componentary. I was after something that was simpler.
I believe I've achieved that and given others much more information if they feel inclined to go down that path themselves for whatever reason/s they have.
Some members have suggested that the rear discs would be detrimental to the front/rear braking balance.
My experience so far is that there is no suggestion that the front/rear balance is compromised.

Without comparative testing I can't comment definitively on any improvement. The only thing I'm prepared to say is that the braking is as good as I would expect a well maintained braking system would be.
However, I am prepared to say this. Previously it was fairly easy to lock one or both rear wheels when braking heavily, that has not been my experience so far.

I've yet to have a real panic stop and at this early stage in the breaking in procedure I'm not prepared to simulate that just yet.
As far as cost, time and effort. Yes, it was at significant cost. Mainly for the kit itself and the cost of shipping from the US.
Knowing what I now know, I could easily produce the kit myself. However, I believe I've paid for the research Scarebird have done to determine the best combination of parts to work correctly on a Mk1 car.

The effort and time, for me, is irrelevant. What else am I going to spend my time on.

Others can make their own judgement as to whether they want to follow based on my experience.
Chris W
— Posted on
The MG Experience
Monday January 22, 2018 2:36 AM
Well that seems (at this stage) to have done the trick!
Just come back from a decent run through Gosford, onto the M1 south to Calga and came back on the old Pacific Hwy back home.
Brakes worked flawlessly and with no noise.
I'm saying - mission accomplished!
So, now I have new hubs all round, new 15" wires and tyres all round, new discs all round and new pads all round. Oh, and new front wheel bearings and a new M.Cylinder.


Now, one other issue I alluded to earlier that many have had problems with. Wheel balance!

Some time ago I posted about this with my old wheels - the inability of most tyre retailers not being able to balance hub mounted wheels.
At the time I solved my balance issue by removing ALL the weights put on by the tyre fitting monkeys and with cheap tyres on 50 year old wire rims - with tubes, the car ran at speed very smoothly.

New wires - tubless - and new tyres - Bridgestone, with no balancing, they run as smooth as silk up to about 140klm's (I wasn't game to go any faster than that).

I was confident that was going to be the outcome and it was. So to reiterate what I've said before:

Wheel balance issues - can't get someone to balance them? Run them naked first and see how you go.

Well, I'm calling this done.

Oh, one more thing to do.
I lost a little oil from the differential during the axle removal and given the differential certainly needs looking at, I want to drain and make sure it's full of new oil. I'll do that soon.
Chris W
— Posted on
The MG Experience
Monday January 22, 2018 2:32 AM
Swapped out the old pads for the new ones. I went to Supercheap Auto and saw a compound that looked like the rubbery stuff I took off and I had $8.50 credit on my rewards card which was going to expire shortly, so I used it to buy the stuff cheaply.
It was a bit fiddly getting the old ones off as the caliper has to come off to get them out. While I was there I noticed that the cutout on the backing plate was a little snug and the pads were jamming in there.
Took the opportunity to use my grinder and make them fit in the backing plate a little better.
I wondered if I should but I could see that the calipers were actually retaining the pads and holding them from slipping radially so I reckon it's ok.
Used the anti squeal compound as per instructions and got everything back together and done. I'm leaving it till tomorrow before driving, giving the compound a bit of time to harden up. Apparently it doesn't go completely hard and stays a bit tacky.
I'll post again tomorrow after a test drive and give the verdict.
Looks promising.
Chris W
— Posted on
The MG Experience
Monday January 22, 2018 2:30 AM
Took the MGB into my local inspection guy this morning and he didn't even blink about the rear discs. Had a bit of a look and filled out the pink slip. Drove straight there and straight home. By the time I was home the Pink slip had been lodged with the RMS so I paid the fee and it's all good.

One issue that I need to address is the brake squeal, more groan. When I lightly brake they squeal. Pressing more firmly and the squeal goes away.

Clearly coming from the back. When I disassembled the Festiva calipers the pads had some red coloured, rubbery stuff sticking the pads to the caliper.

I cleaned all this off and didn't re-apply anything else. (I'm actually still running the old pads as they had lots of meat left, I just cleaned the face on the linisher before putting them back in. I've got new ones but didn't see the need to use them - yet.)

It appears this red stuff is some sort of anti-squeal magic and I think I should replace it or maybe wait to see how the pads go over the next few weeks?

I asked these questions on the forum and the consensus was to use the new pads with some sort of anti-squeal stuff.
Chris W
— Posted on
The MG Experience
Saturday December 30, 2017 2:23 AM
I finished off the handbrake this arvo and took it for a drive. Handbrake's OK. You really have to reef on it to hold the car. Might have another look at that down the track. It does, however, slow the car when driving along and that, I suppose is the important thing.
Now, on to another problem. I noticed this on a previous test drive and that was a nasty clonk going around a left bend and hitting a bump at the same time. I didmissed it previously as just hitting the bump stops but today it was obvious that something else was fouling.
I was able to replicate it and when I brought the car home I stopped on the downward reverse turn into the carport so the suspension on that side was heavily compressed.
When I hopped out and bounced that corner I could hear metal to metal clunking.
Squeezing my head under with a torch I could see where it was touching.
See this picture:
and this one:
There could be a myriad of reasons why this is occurring.
Kit didn't allow for this.
Some misalignment in the axle assembly.
A slightly larger flange here than normal.
ETC.
I don't have an issue with the 'track' of the car but there has been some evidence of collision damage in the rear in the past.
Interestingly the other side is clear: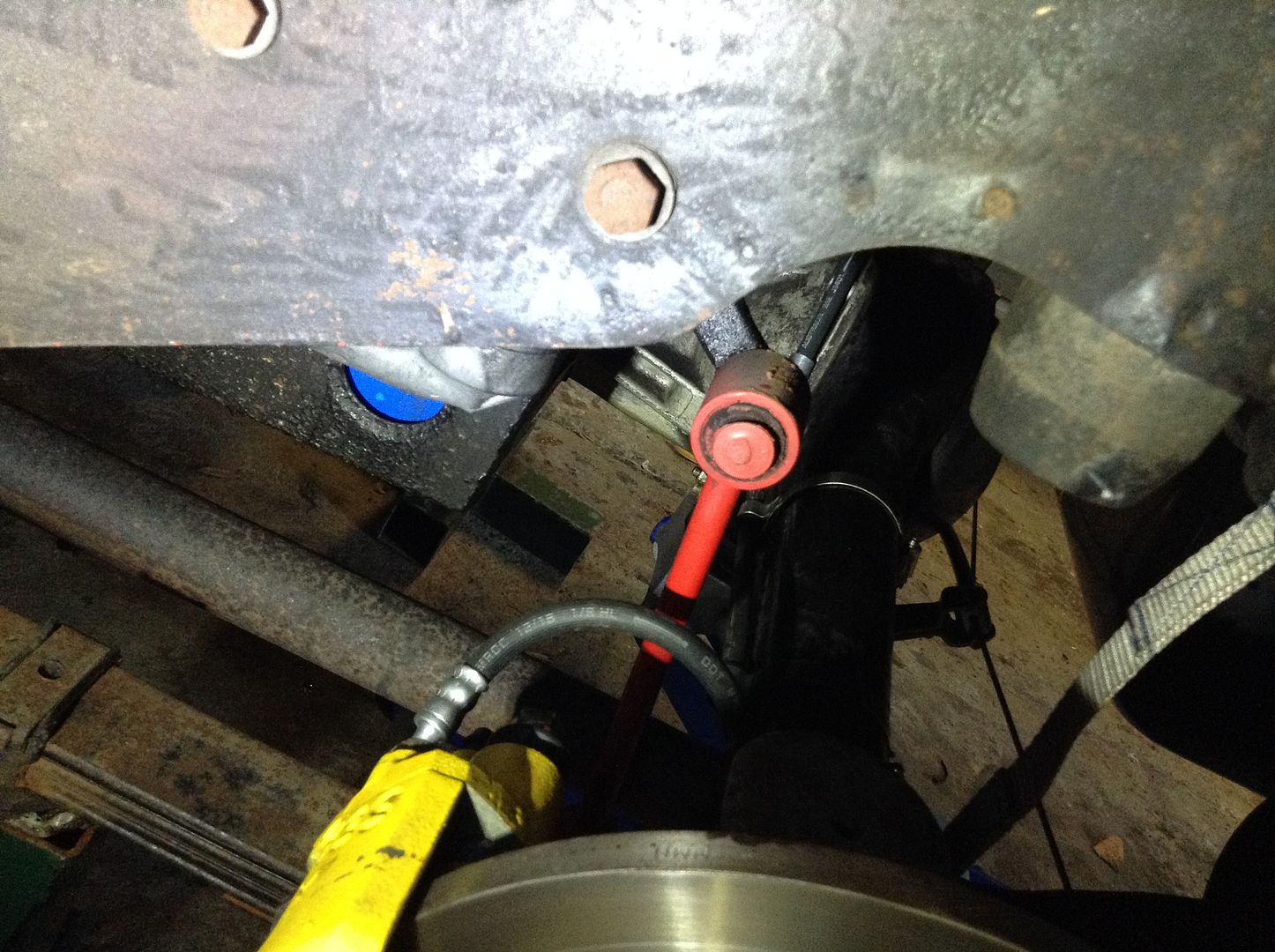 By how much is difficult to determine.
Anyway my plan is to cut/grind away some of the flange to allow for clearance.
Chris W
— Posted on
The MG Experience
Saturday December 23, 2017 8:21 AM
I'm starting to think there's something screwy about my car.
I stuffed up the original cable by cutting too much off it. The suggestion that over the years the cable had stretched. New cable should solve that issue.
Well it appears not!

The cables mechanism is a little convoluted. The main cable from the lever goes directly to the left rear wheel. On it's way there it leaves the outer sheath going through a floating pivot bar. At this bar the sheath pushes back against the cable movement in so doing pulls a secondary cable which is connected to the right rear wheel. This pivoting action equalises the pull from both wheels in towards the centre.

On my car the main cable appears to be far too long and even with all the adjustment on the main cable at the lever it still does not have enough pull on the two wheel levers to activate the brake.

I'm going to try again to shorten the main cable a more accurate amount to enable the cable to pull the brake on.

However, Christmas has intervened so everything stops until Christmas/New Year has past.