Location
VanDusen Botanical Gardens, 37th and Oak Street, Vancouver, BC, Canada
Date
May 20, 2017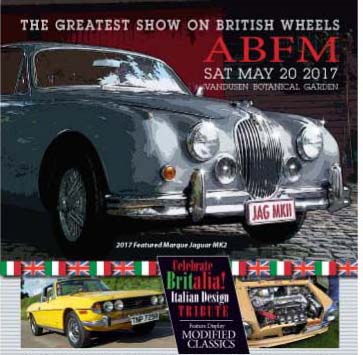 Dubbed "The Greatest Show on British Wheels," the Vancouver All British Field Meet (ABFM) will celebrate its 32nd year on Saturday, May 20, 2017. Featured marques are (i) the world's first sports sedan, Jaguar Mk 1 & II, and (ii) Modified British-built classics.
Additionally, there will be a special "Britalia" feature—a display of Italian-designed British-built cars.
In two-wheel class, there will be a historic display showcasing the evolution and development of motorcycles over the past 50-plus years.
Open to all British Cars
3 Members Attending this event ↵
Want to add yourself to the list of attendees?
Please Sign In — or Register a new account (it's free!)
event/1701